Thanks for installing the Books for DC Firefox add-on!
The instructions below will get you up and running in no time.
Support the project
The quest to serve all 690k residents remains in effect. You can help us get there by:
Sharing us in your social networks, like Twitter ↗ or Facebook ↗.
---
Purchasing one of our totes
Show off your bibliophilic bona fides!
Carry your huge library haul!
Spread the word about Books for DC on the District's streets!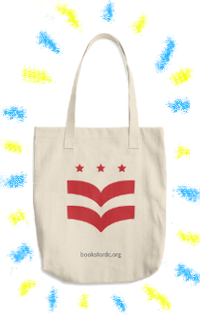 Set up and instructions

To begin, navigate to the Books for DC add-on's options. You find them by entering this address in your Firefox window's address bar:
about:addons
Alternatively, you can click the hamburger menu icon

and select Add-ons.
Next, locate the Books for DC extension and click on Preferences, as below.

A new page will open. Under preferences, choose which media types you want to see and whether you want links to open in a new tab. Then press save options.
You can change your preferences at any time by repeating these steps.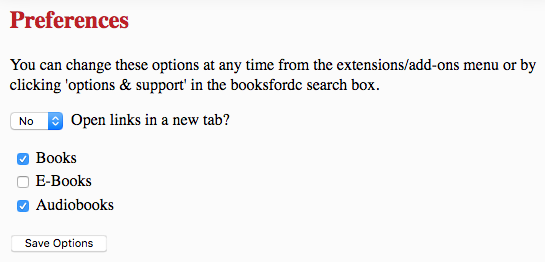 When you look at a book's page on Amazon, Barnes & Noble, or Goodreads, Books for DC will now get to work finding it in the DC Public Library's catalog.
The video below shows what that looks like (click to view larger).
Contact

Books for DC is a project of Emanuel Feld.

Send questions, issues, ideas, feature requests, rants, or raves on Twitter or by email at booksfordc at gmail dot com.